What is Permaculture Herbalism?
Mar 15, 2023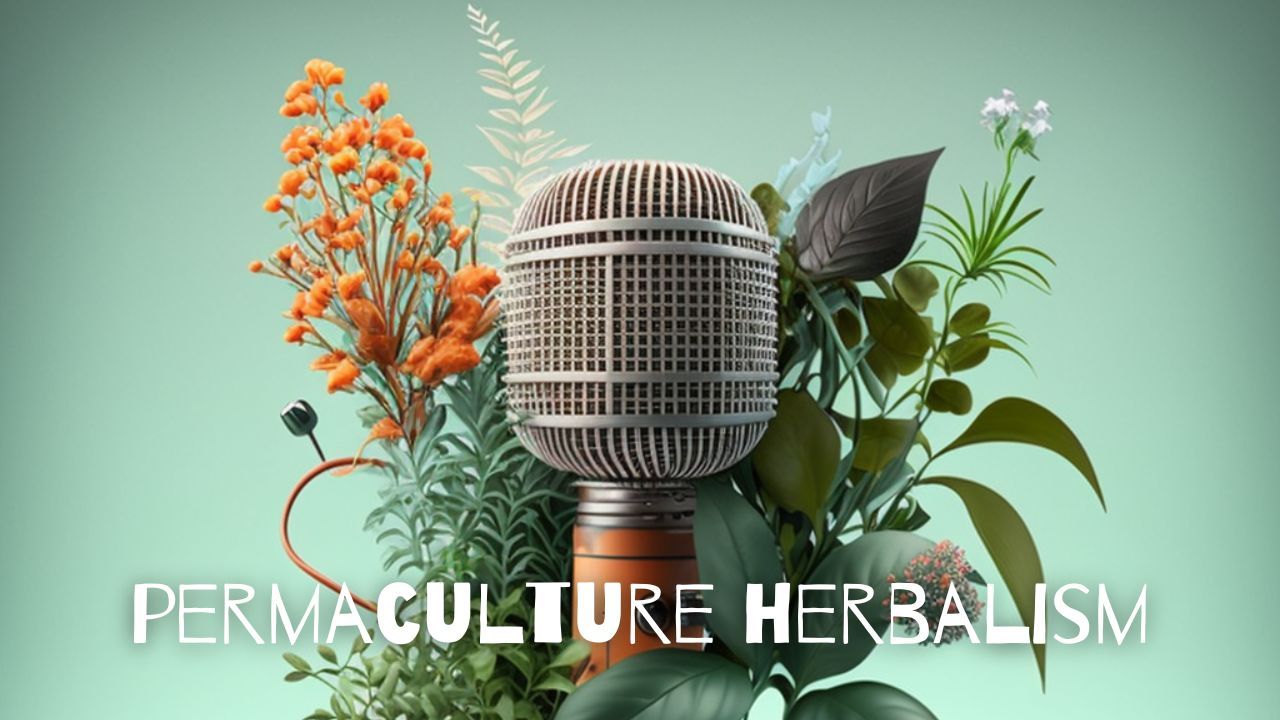 To combine the two words: Permaculture and Herbalism, are to bring healing plants into regenerative landscapes by design. The former is a design science based on ecology utilised to cultivate the land in a way that works with nature, to meet the needs of humans with food, fibre, medicine and energy. Permanence and Agriculture with the values of Earth Care, People Care and Fair Share or redistribution of surpluses. Herbalism is the study of plants and their application for healing and maintaining health.
I am honoured to bring these two important themes and practices together in conversation with others in a podcast format in service of The Elder Tree.
My contribution is just a part of the offerings by other presenters with their segments, so read on for more information!
In this blog, I wish to introduce The Elder Tree project vision and provide a growing list of the amazing people I interview in this discovery process of designing herbal medicine into our home gardens and all the ways that permaculture can be expressed and lived. I'll dive a little deeper into what Permaculture Herbalism is, so you know what we will be conversing with during these podcast episodes!
Firstly, The Elder Tree is a not-for-profit organisation empowering people through grassroots herbal education and earth skills and providing affordable holistic healthcare opportunities. This podcast showcases myriad herbalists, herbal educators, permaculturalists and other amazing plant medicine folk from around Australia doing inspiring things.
There are four segments to the podcast:
Herbal Education: Presented by Twiggy Dawn

Permaculture Herbalism: Presented by Tonielle Christensen

Sacred Herbalism: Presented by Stephanie Hazel

Self Care With Herbs: Presented by Jessyca Bosscha
This vision is to put medicine back into the hands of people, and the mission is to establish an educational practitioner centre for herbal medicine in the Tablelands region of Far North Queensland. This will base on an integrated permaculture design with opportunities to learn grassroots at-home healing, organic food production, design and bush skills, including wildcrafting. It will be a healing and retreat space, as a venue for related workshops and courses and clinic rooms for qualified practitioners to provide allied services.
You can learn more about ways to be involved and stay in touch with the evolution of The Elder Tree via the website: www.theeldertree.org and better yet, donate here: https://www.gofundme.com/f/the-elder-tree
So what is Permaculture Herbalism?
Permaculture-Herbalism is the practice of using permaculture principles and techniques to grow and use medicinal herbs sustainably and regeneratively. It combines permaculture design principles with traditional herbalism knowledge to create a holistic approach to gardening, health, and ecology.
If you are new to this concept, Permaculture principles emphasise working with nature, rather than against it, to create self-sustaining and resilient ecosystems. This includes designing landscapes that are diverse, productive, and sustainable and that support the health and well-being of all living organisms.
Herbalism, however, is the study and practice of using plants for medicinal purposes. It involves understanding the properties and uses of different herbs and how to prepare and administer them safely and effectively.
So, Permaculture herbalism brings these two practices together to create a system of growing and using medicinal plants that are grounded in ecological principles and traditional knowledge. This may involve creating herbal gardens or incorporating herbs into existing permaculture systems, using companion planting and natural pest control methods, and making herbal preparations like teas, tinctures, and salves.
Permaculture herbalism aims to create a harmonious relationship between humans and the natural world, where plants and people coexist in a mutually beneficial way. This includes using medicinal herbs to support health and well-being while also promoting the health of the environment and the communities that depend on it.
LISTEN, LISTEN!
I will add the Podcast information, including the show notes, like a menu to feast on, with options to listen via Spotify or Apple, and please leave a review if you enjoyed it! The bots will share it with a wider audience if you do this; it's true!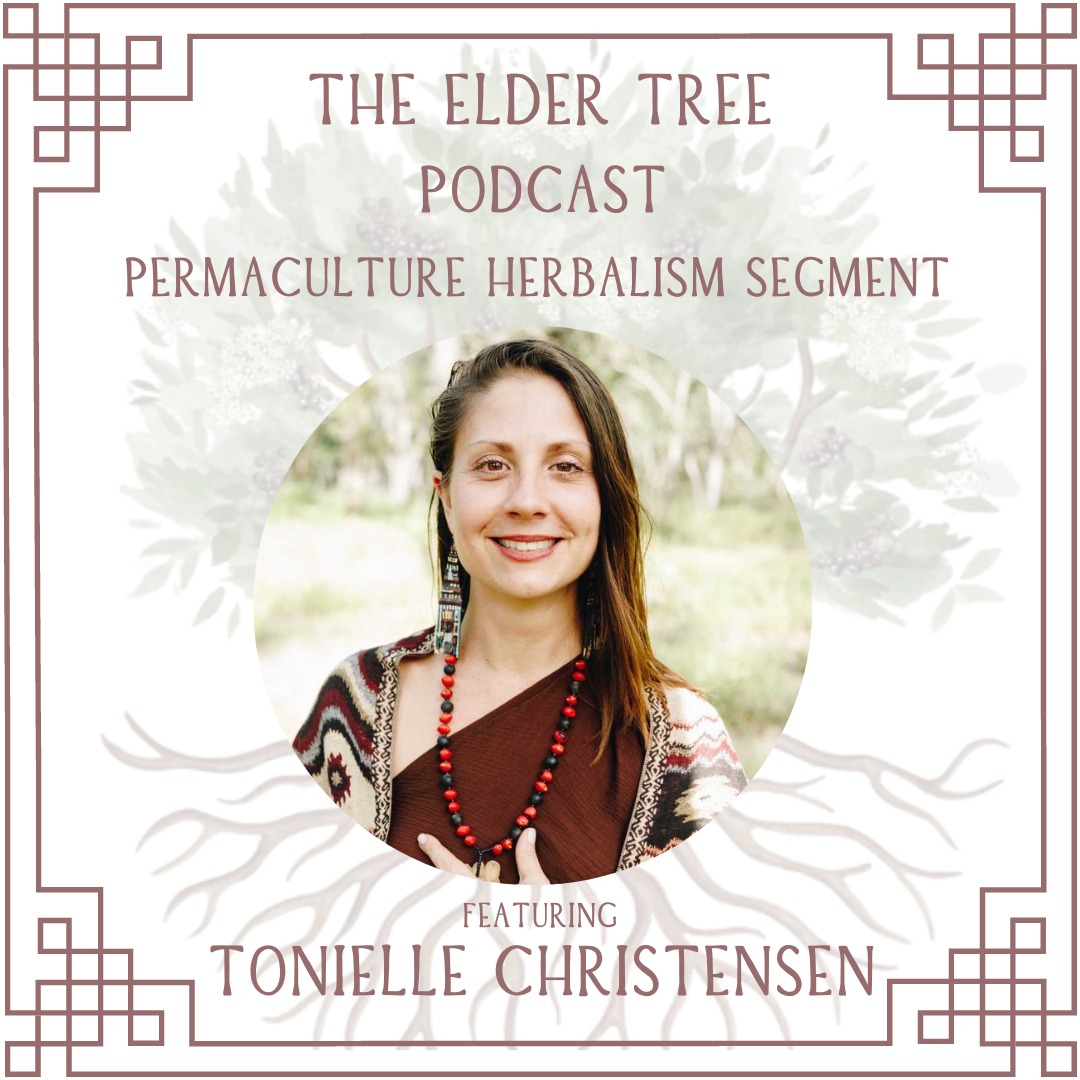 EPISODE: Introduction to the Permaculture Herbalism Segment with Tonielle Christensen
Listen on Spotify or Listen on Apple Podcasts
This is the first episode of the Permaculture Herbalism Segment of The Elder Tree podcast on the first quarter moon of spring 2022.
In this episode, I am introducing myself (Tonielle Christensen, aka Earth Mumma) and giving you insight into this segment and providing some insights into the concepts of the art and science of permaculture. I intend to connect with inspiring permaculturalists and learn holistic ways of integrating plants into our homes, gardens and communities for healing. Together, we will explore this regenerative design system with five powerful questions to bring out the wisdom of the amazing people I will interview in future episodes. So stay tuned!
As an educator and grassroots kitchen witch, I love my lifestyle and its extension into my permaculture garden. If you want to join families and me from around the world to connect, nourish and grow in tune with nature, please join our community and online practical course at: https://www.earthmumma.co/naturekids and be part of my upcoming in-person workshops and courses to get skilled in sustainability, join me here: https://www.earthmumma.co/workshops-courses.
If growing an abundant nutritional and medicinal garden in the tropics excites you, then you'll need my book, The Incredible Edible Tropical Superfoods Guide.
If you want to stay tuned for these episodes 'follow' us and check back every first quarter moon to listen to this segment. Revised: I mentioned that Darren Doherty is part of RegenAg, which was the case when I studied my PDC with him. However, he is no longer involved in that company and now runs the Regrarians platform.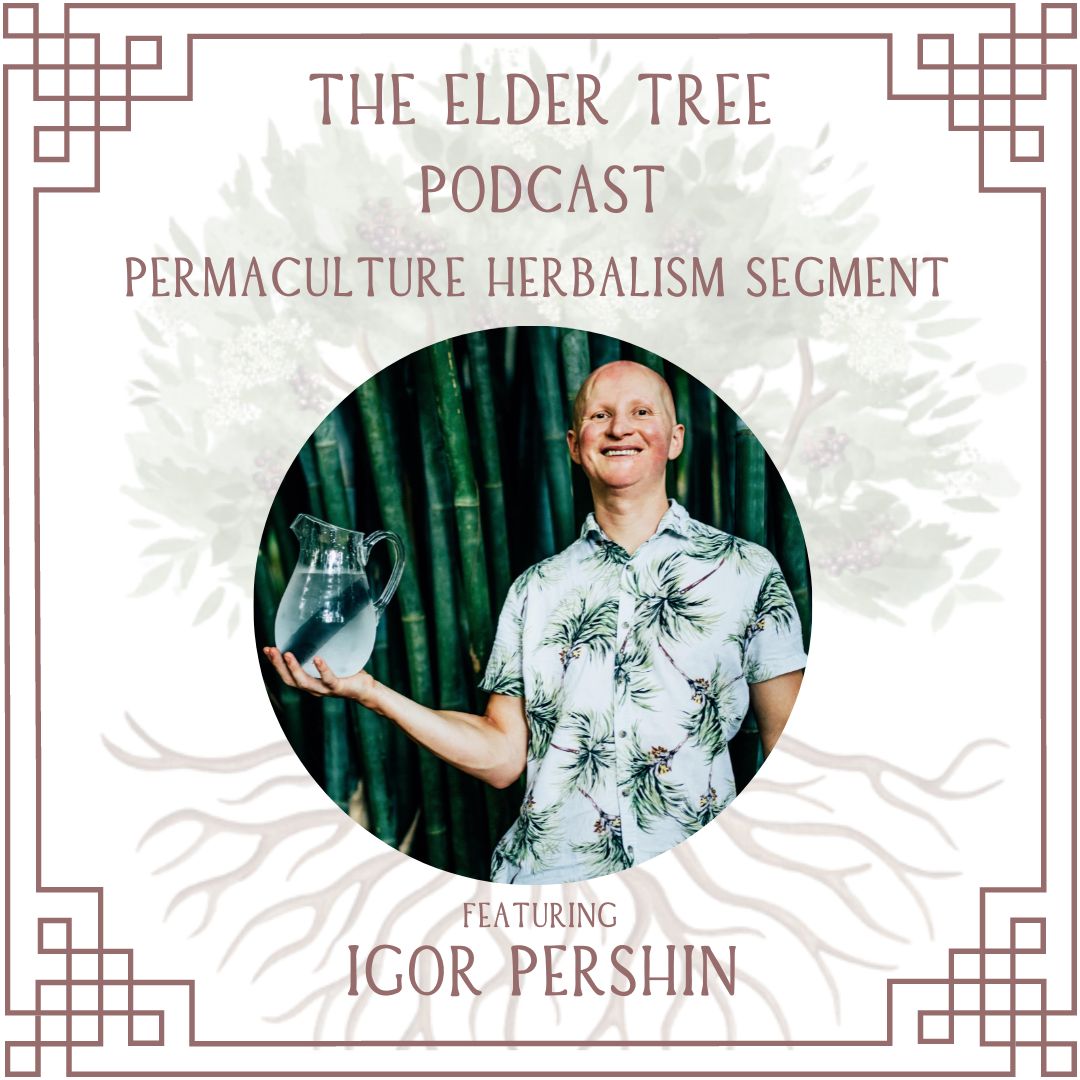 EPISODE: Near Death Experience to Regenerative Agriculture: Igor Pershin on the Permaculture Herbalism Segment
Igor Pershin had a near-death experience which made him take stock of his priorities and decide to give back in some way. This wake-up call sent him back to university to pursue postgraduate studies in the environment at Melbourne University, an addition to his Marketing degree, which acted as a springboard for his climate change activism career, spanning Beyond Zero Emissions, 350.org and ultimately founding his own non-profit, Less Meat Less Heat. Igor's focus was carbon-conscious eating, which opened up opportunities for him to present at UN climate conferences in Paris and Bonn, speak on the TEDx stage, and even develop an app.
Interestingly, burnout forced Igor to take stock of his own health and understand the deeper systemic origins of environmental and human-health imbalances, where formal studies into nutrition and functional medicine led to his understanding that human health is directly linked to the health of our soils. He admittedly states that he was wrong about his non-profit and that, as Bob Gill says, "it's not the cow, it's how", and discusses how his experience led him on a path away from the climate 'fight' and toward seeking solutions, finding permaculture and regenerative agriculture which integrates animals as vital roles in the building of soil health.
Following Sadhguru along the Cauvery Calling trip across India to activate farmers and their communities to shift towards regenerative agriculture principles, he further deepened his passion in this space, which ultimately led him to seek out Zach Bush and Farmer's Footprint. Igor is currently the operations manager of Farmer's Footprint Australia and runs Natural Filters, sustainable bamboo charcoal water filters for the home, and a digital marketing consultancy specialising in solar energy. Warning: there is lots of loud laughter in this episode.
Show Notes:
Farmer's Footprint Australia
Website: https://farmersfootprint.org.au
Facebook: https://www.facebook.com/farmersfootprintaustralia
Instagram: https://www.instagram.com/farmersfootprintaustralia
Natural Filters - Binchotan Charcoal Filters Made With Bamboo
Website: https://naturalfilters.com.au
Facebook: https://www.facebook.com/naturalfiltersau
Instagram: https://www.instagram.com/natural_filters
Cauvery Calling is a first-of-its-kind campaign, setting the standard for how India's rivers – the country's lifelines – can be revitalised: https://www.ishaoutreach.org/en/cauvery-calling.
EPISODE: Nature Kids, Psychology & Community Networks: Samantha Jurgens on Permaculture Herbalism
Samantha Jurgens is co-creator of the Nature Kids Permaculture Program for Families with host Tonielle Christensen. As a comrade and Earth Mumma, Samantha has a background as a Psychologist and found the framework of ethics and principles of Permaculture to be the 'aha' foundation for mindset and sustainable living that she was looking for.
She began working in the 'education and arts' domain of this design science, and speaks about the power of community and networking, homeschooling, seed-saving, and pulling down the fence between neighbours to share an edible and medicinal garden. Samantha barters with honey and trades her time for helping a local farmer harvest for their markets in exchange for her fresh produce. She has milked cows, chopped wood, carried water, and cared for hundreds of chickens!
Samatha shares her health story and explains how her herbalism and permaculture journey has evolved together and that the 'people and fair share' ethics are a big part of why she moved to the North Queensland region.
Together, we share some snippets from inside the Nature Kids program about what permaculture herbalism means to us, with the relationship between plants for the healing of people and the earth equally, medicine for both. Listeners will get to know some of the juicy content in the program, like 'edible weed walks' and 'making your own medicine garden', plus a 'DIY personal care kit' with recipes from Samantha's special range. Warning, you may be inspired to join in!
Also, the upcoming Elder Tree fundraiser is discussed, with workshops, films and feasting!
Show Notes:
The Nature Kids Club is all about connecting, nourishing and growing in tune with nature. We love the Elder Tree initiative so much that we will donate 10% of every program sale purchased (lifetime access) plus +++ to give a 10% discount for subscribers to the Elder Tree Podcast. Use this unique Coupon Code: ELDERTREEPODCAST
Show Notes:
Nature Kids Permaculture Program for Families
Website: https://www.earthmumma.co/naturekids
Facebook: https://www.facebook.com/Naturekidsclub
Instagram: https://www.instagram.com/naturekids_club/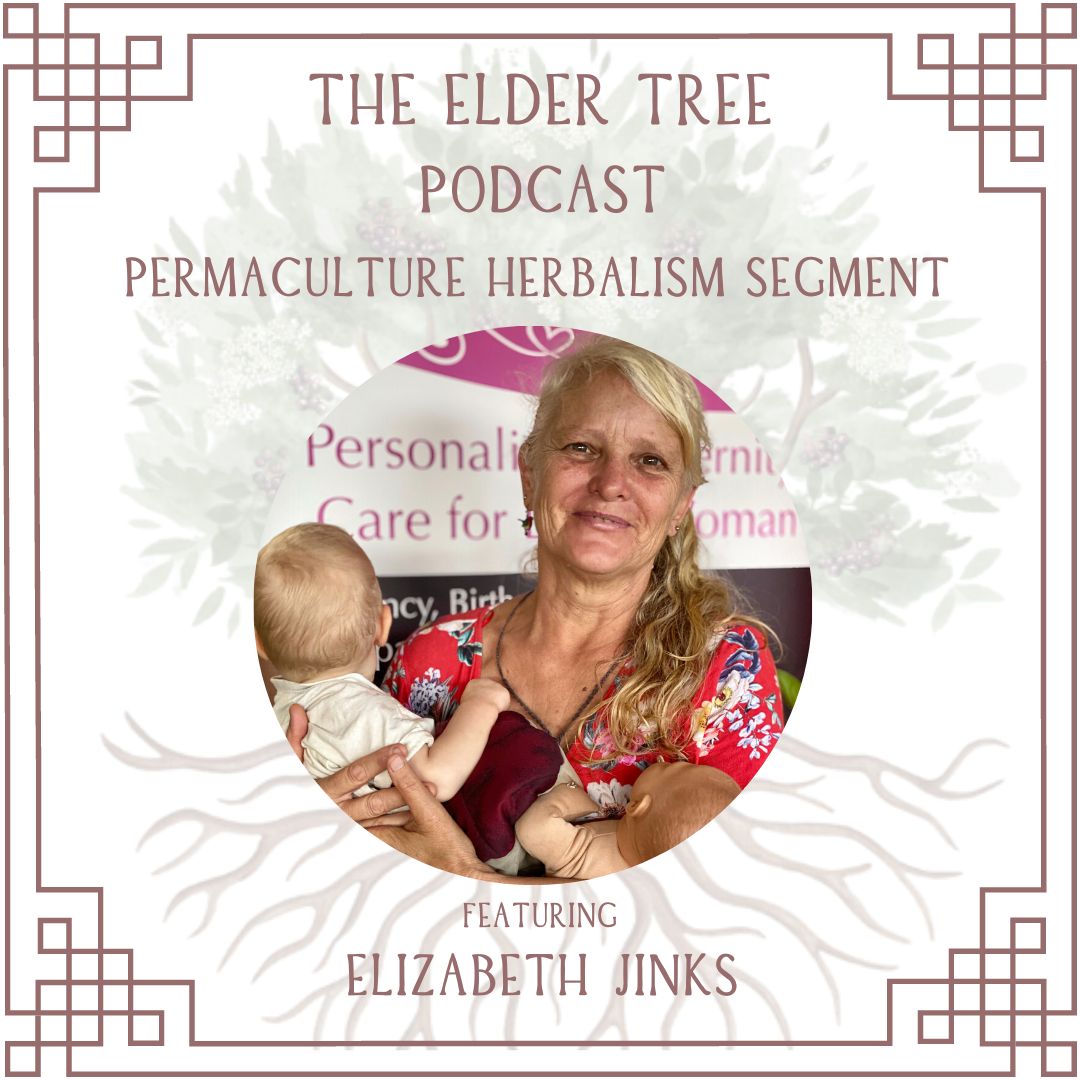 EPISODE: Midwifery, Placenta Planting & Syntropic Food Forestry with Elizabeth Jinks
Elizabeth Jinks is a midwife, mother of seven, seed saver and a syntropic food forester. With a Masters' in Primary Maternity Care, she is committed to delivering informed, personalised care that empowers women to birth well, whether in a hospital, birth centre or from the comfort of home. From birthing six of her babies at home with the same midwife, Beth is passionate about offering this continuation of care for other women.
Our discussion includes some insightful chats about placenta planting in her garden, her vision for birthing 'on country', and Beth's inspiring Permaculture journey on her property in Koah in Far North Queensland. She shares how she was chosen by the land, and her humble beginnings of a shipping container and caravan that evolved into earth shaping to make swales and a small dam for water harvesting, to an established tropical syntropic food forest which provides most of her sustenance.
Beth explains how she uses herbs in her daily life and, specifically, the four essential herbs; Shepards Purse, Angelica Root, Rasberry Leaf and Black Cohosh that she takes to every birth to support women, as well as her love of Motherwort and Mugwort Moxas as supportive plants for women. The story of how Beth supported Tonielle in her personal home birthing experience is shared in this interview, and how permaculture brought them together and continues to evolve with students visiting and participating in planting in her evolving garden of abundance.
She speaks of her regular use of Aloe Vera and Sacred Basil and lists what is flourishing in her summer garden, and we touch on various plants that can and can't be eaten during and after pregnancy. From Moxa's for Breach babies to Mayan Abdominal Massage to treating Placentas as sacred rather than medical waste...I trust you'll find value in this interview!
Show Notes & Links:
- Life In Syntropy video - https://youtu.be/gSPNRu4ZPvE
- Mugwort and Moxa - https://daoisttraditions.edu/healing-power-moxa/
- Mayan abdominal massage - https://www.rebirthmayamassage.com/post/what-is-maya-abdominal-massage
- Sacred Placentas or Medical Waste? - https://www.medicalnewstoday.com/articles/319806#Treading-on-unknown-territory
- Eucalyptus Grandis - syntropic support specie
Connect with Tropical Babies Midwifery:
Website: http://www.tropicalbabiesmidwifery.com.au/services.html
Facebook: https://www.facebook.com/tropicalbabiesmidwife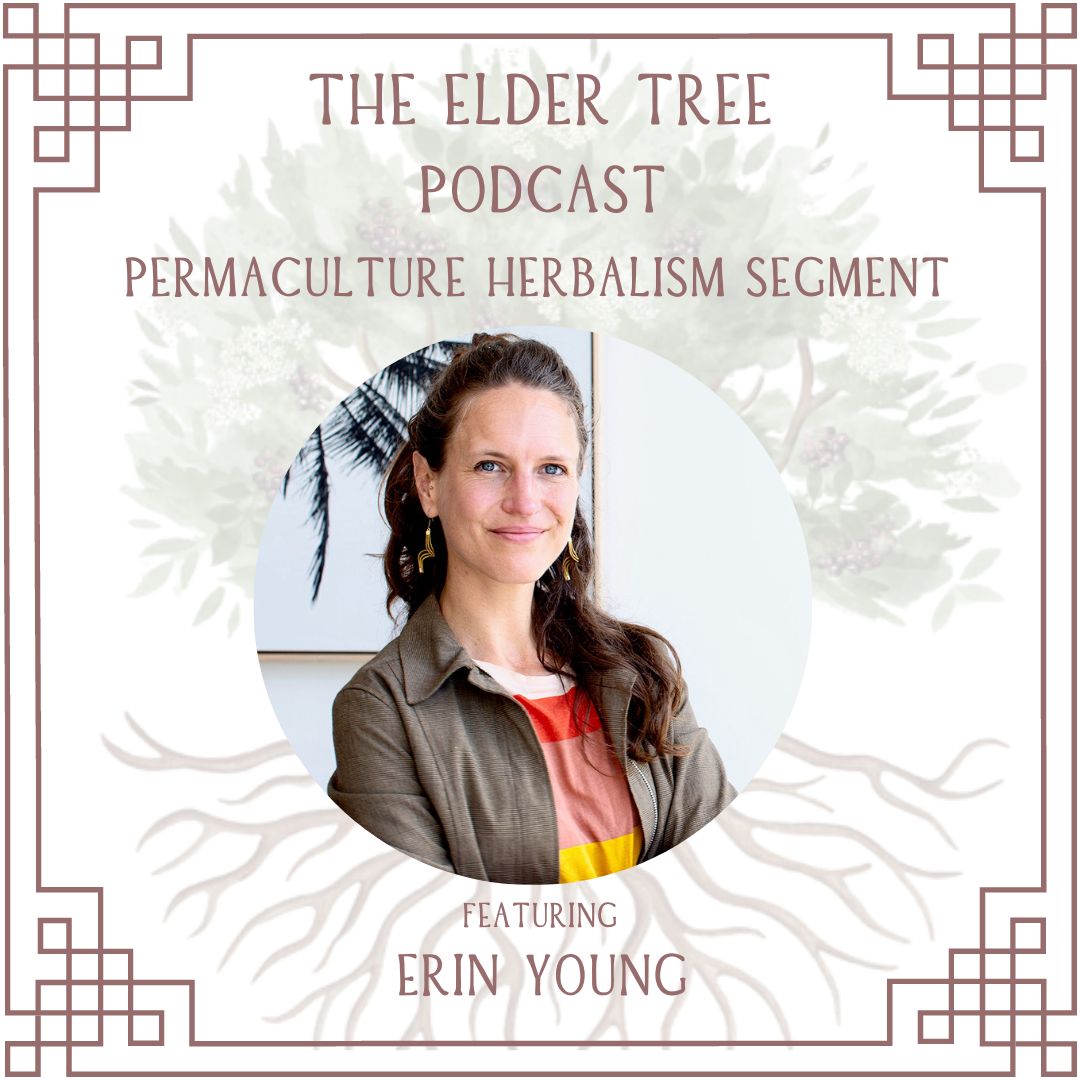 EPISODE: Sustainable Funerals, Sociocracy, and Balancing our Nervous Systems with Erin Young
Erin Young is a mover and shaker in the realm of social permaculture and tunes in with us from Kabi Kabi country near Eumundi on the Sunshine Coast. As a certified Human Potential Coach and Sociocracy trainer, she shares insight into how she brings nature-informed frameworks and a holistic toolkit to help individuals and forward-thinking organisations balance nervous systems to establish safety and avoid distraction and dysfunction to make real traction in creating a positive impact. She speaks to living an enchanted life and ecological patterns brought into social settings to encourage a diversity of perspectives and governance hierarchies to make decisions with a "power with, rather than power over".
We discuss her garden and what is growing, her favourite plant, Lemon Grass (Cymbopogon citratus) and its many functions and her healthy journey using Ayurvedic practices, intuitively going to certain plants when she needs them, and the underestimated balm of a cup of herbal tea.
Erin holds a Bachelor of Environmental Engineering and discusses how her first Permaculture Design Course in Portugal unlocked her understanding of how life works and led her on this path, whereby she now teaches Social Permaculture weekend courses alongside pioneer Robin Clayfield (who will be joining us in an interview soon!), speaks at Festivals and teaches elements of her toolkit at courses such as the Change-makers PDC on the Sunshine Coast.
Currently, she is partnered with Earth Funerals, an organisation establishing sustainable funerals and natural burial grounds around Australia. With developmental coaching, consulting and training in collaborative decision-making and governance (aka sociocracy), social permaculture, and artfully facilitating group processes, she is modelling how groups can be healthy human ecosystems and a regenerative force beyond monoculture thinking!
Show Notes:
Social Permaculture Weekend with Robin Clayfield Feb 11th & 12th, 2023: https://www.facebook.com/events/564776655431004
Earth Funerals: https://earthfunerals.org/restoration-burial/
Zen and the Art of Dying: https://www.imdb.com/title/tt4245204/
Introductory Guide to Social Permaculture & Seasonal Goals - A living Guide: https://www.erinyoung.net/shop
Connect with Erin:
Website (with e-books mentioned): www.erinyoung.net
Facebook: https://www.facebook.com/erinyoung.coaching
Instagram: https://www.instagram.com/erinyoung___/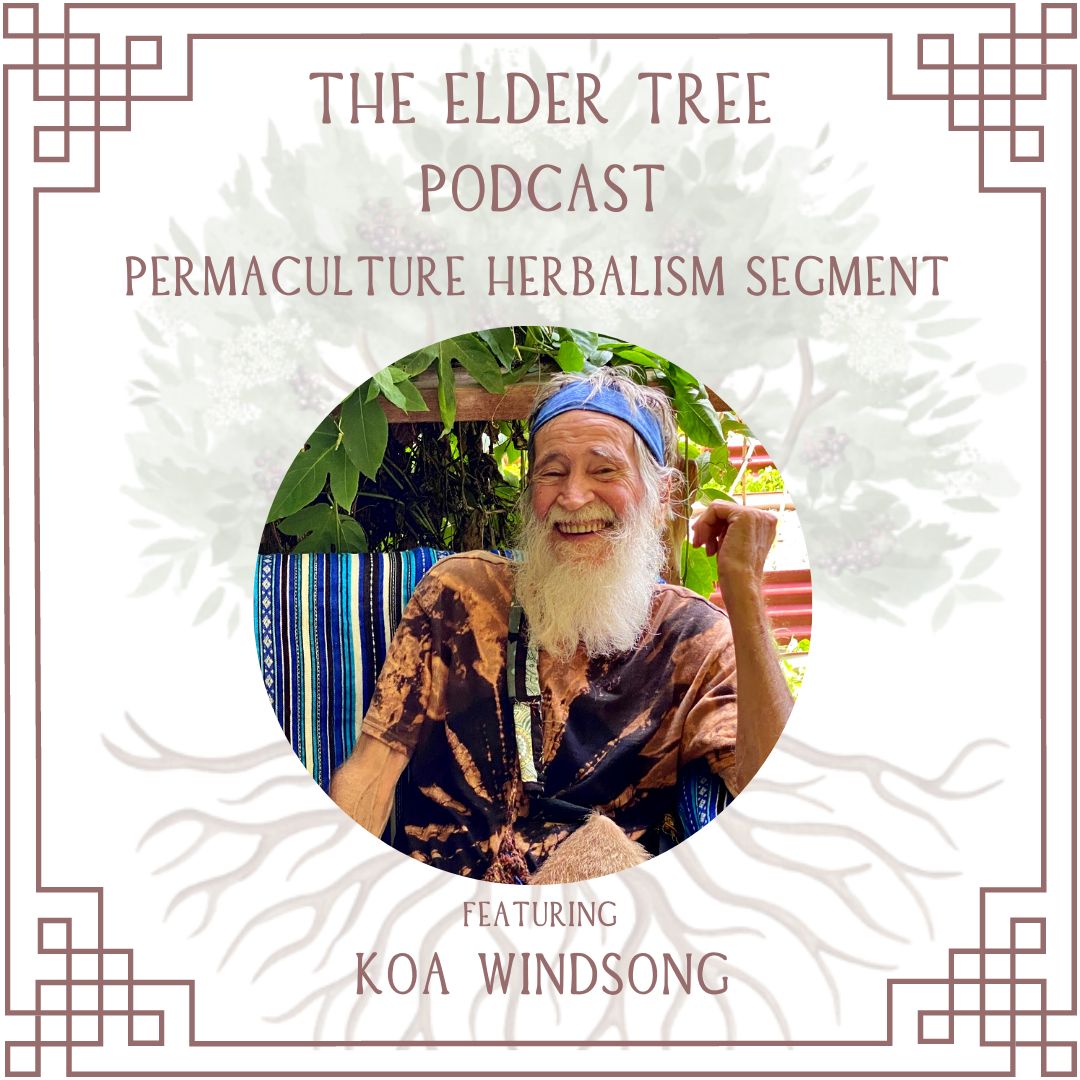 EPISODE: Bush Survival Skills, Eldership and Story Telling With Koa Windsong on Permaculture Herbalism
Koa Windsong has been cultivating an extensive knowledge of Australian bush tucker and survival skills, living off the land for much of the last four decades around the northern rivers of NSW and Far North Queensland. As a respected elder, he is a wisdom sharer, inspiring and teaching his knowledge to people of all ages with practical in-person workshops about the local wild foods and medicines and how to harvest them respectfully.
In this interview, Koa speaks about sustainability and self-healing from the garden space with Comfrey (Symphytum officinale), Aloe Vera (Aloe barbadensis) and Perennial Coriander (Eryngium foetidum) and beyond into the wild with the plants that have been his allies, such as Coconut with fasting and ingesting termite mound to heal. He tells many stories of living close to nature, surviving and thriving from childhood to being in his eldership, passionate about passing on his knowledge.
From weaving to tanning, making his clothes, building his dwellings in between nomadic living, and parenting experiences with nutrition, we cover many topics in this conversation, including his new book, Dream Weaving Down Under.
Koa offers a way to stay connected and is calling in Tribe to his Patreon platform to access his extensive knowledge in bush tucker plants with his survival guide, plus ways to continue learning with short courses in bush crafts, weaving, growing food and medicines, and anything you put forward that you would like to learn.
Show Notes:
Buy his book: Dream Weaving Down Under, Follow Koa's journey on Australia's east coast and learn about bush foods, survival techniques, earth-saving ideas and his compassionate philosophy. A must-have for those interested in self-sufficiency in these turbulent times. https://www.amazon.com.au/Dream-Weaving-Down-Under-Windsong/dp/B08GVJTZH5
Patreon Koa Windsong - Wisdom Keeper. Creating education in bush foods and survival skills. This is the place to stay connected and support his work to learn in exchange: https://www.patreon.com/wisdomkeepers
Koa Windsong Youtube Channel - https://www.youtube.com/@koawindsong5971
Stay tuned for more episodes added to this list, and if you have any requests for podcast content, please reach out!